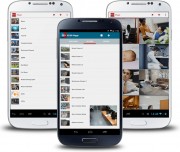 Video Experts Group (VXG) today releases the new version of VXG Mobile Video Player SDK (Software Development Kit) - the most powerful and efficient tool for mobile video player development for any purpose, including IPTV and CCTV streaming.
Toronto, Canada, November 28, 2015 (Newswire.com) - Since wireless internet and smartphones have given us opportunity to be constantly online, we started to use our mobile devices not only for entertainment purposes, but for business purposes too. A lot of surveillance systems vendors now have to include in their service packages custom CCTV mobile applications, because their customers now want to have instant access to their cameras and camera recordings. Nowadays, thousands of companies have to develop mobile solutions that can promote their businesses and help them to keep up with the times. Furthermore, it is one more tool for generating revenue!
According to the new Ooyala Global Video Index Report, "Mobile video viewing has increased 400% during the last 3 years" and, "50% of all video viewings in 2016 will be on mobile devices."  Konstantin Ryashentsev, Technical Director at VXG states: "If your business is video-related, for example, you are a CCTV system vendor or an IPTV provider and you don't have mobile app to provide your services – you lose the half of the potential market share. We provide our customers with opportunity to create their own unique mobile video player without spending a lot of time and money on software development."
One of the strengths on VXG Mobile Video Player SDK: it is very easy to use.  The ready-to-use video player can be created just in a few hours. As a result, the customer gets a mobile player that is based on basic VXG applications, for which quality is approved by 1M+ users. And if customers have exceptional demands, they can always order custom development from VXG engineers.
VXG Mobile Video Player SDK has a wide range of features and powerful tools:
Supported streaming formats: RTSP, RTP, UDP (including

Multicast

), RTMP, TLS, MMS, and adaptive HLS with smooth Playback and Replay option.
Digital Security is provided by Encrypted content and optional DRM integration.
Smart Recording and 

Timeshift

, Preview mode and Smart

online

thumbnails, Subtitles, Custom notifications, Integration with active

apps

and many other features!​
An evaluation version of VXG Mobile Video Player SDK is available on Video Experts Group website (www.videoexpertsgroup.com) as a free download.  
For additional information, or for sales and development questions, please email expert@videoexpertsgroup.com. 
Share: