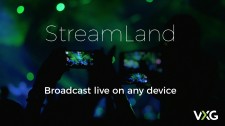 TORONTO, CANADA, April 18, 2018 (Newswire.com) - VXG Inc. is pleased to announce the release of our newest live streaming solution - VXG StreamLand. StreamLand is the perfect solution for various streaming and broadcasting scenarios. For example, it can be used to broadcast one to many like HQ Trivia, many to many like Periscope and many to one for a cloud based security camera monitoring service.
VXG StreamLand consists of three modules which can work together, or separately in a range of different combinations:
Cloud Video Streaming - auto-scaling broadcasting service based on Amazon CloudFront CDN
Streaming Server - a server deployable on local Linux machine or customers' cloud instance
Mobile SDK - well-known VXG Android and iOS SDKs for playback & streaming applications as well as a mobile surveillance camera. 
Robert MacMillan, Head of Sales at VXG enlightens us. "Start-up companies who are making live video broadcasting apps like Periscope or HQ Trivia are emailing and calling us daily. We've helped develop some really innovative ideas into reality." Robert continues, "Not only that, but we are helping large security companies convert from the old, CCTV style, monitoring systems to new, scalable, cloud based ip camera system. We provide companies with our Cloud Video SDKs and APIs, that can be used as the backbone of your app. Our engineers provide full support for integration and are constantly updating our software to keep up with the ever-changing tech world."
VXG became known in the live streaming world for their free mobile surveillance software and RTSP mobile app — they boast millions of downloads on this software.
Visit www.videoexpertsgroup.com for a free 30-days trial. 
Source: VXG Inc.
Share: