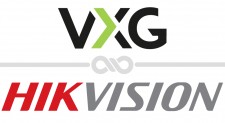 TORONTO, August 13, 2018 (Newswire.com) - Today, VXG is proud to announce an official partnership with Hikvision, to help provide a fully scalable, fully integrated security solution. Hikvision cameras are now fully compatible and integrated with the VXG cloud video platform, allowing for low latency streaming from your security camera (IP camera) to any device. This includes mobile, desktop, or any other type of device that will grant you internet access.
Hikvision cameras that are integrated with the VXG software will not only be accessible from a wireless device but will also have the capability to provide cloud video recording. This function can be used to supplement the traditional NVR setup used by most CCTV systems, or can entirely replace the need for a physical NVR at all. 
One of the more difficult aspects of setting up a traditional CCTV cloud service system is the process of port-forwarding, which was required to properly connect communication requests between the cameras and any other supplemental equipment. With our software included in the Hikvision camera, you will no longer need to go through the often lengthy task of forwarding your ports correctly. The connection will now be auto-configured as soon as you have an integrated Hikvision camera connected to the internet.
The integration between the VXG cloud video and Hikvision hardware will allow for seamless, wireless security monitoring. To help facilitate the launch of this offering, VXG has recently developed a new tiered platform, with differing permissions being given to each tier. This new platform will streamline the vertical connection between the user and the distributor of the security service, allowing for brand new revenue streams for the distributors, and increased ease of use for the users. Lastly, this partnership allows for easy integration for cloud video analytics. If you are interested in a live demo of this new platform, please reach out to us on our contact page - https://www.videoexpertsgroup.com/contact/
Source: VXG Inc.
Share: